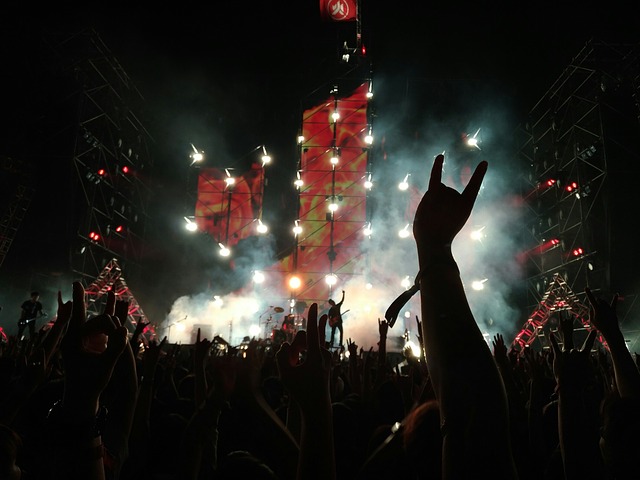 Today we bring you the Spanish Rock Karaoke list to sing with your friends, featuring artists like Joaquín Sabina, Miguel Ríos, Fito y Fitipaldis, Maná, Héroes del Silencio, and many more! Find many more karaokes here.
Complete List of Spanish Rock Karaoke Songs
The total duration of the song list is approximately 2 hours, 28 minutes, and 29 seconds.
List of Spanish Rock Songs:
Insurreccion – Manolo Garcia & Miguel Rios

A powerful collaboration of two iconic Spanish artists, with lyrics that invite rebellion and change..

Joaquin Sabina – 19 Dias Y 500 Noches

A classic by Joaquín Sabina, with his characteristic lyrical and melancholic style, narrating love and heartbreak experiences.

Miguel Ríos – Bienvenidos

A Spanish rock anthem that welcomes the audience with its catchy rhythm and optimistic lyrics.

Fito Y Fitipaldis – Entre La Espada Y La Pared

A song with a rock attitude that explores the tensions and choices of everyday life.

Mana – Manda Una Señal

Mana's distinctive sound in a song that speaks about seeking a guiding message. This is a must-have on your Spanish rock karaoke list.

Joaquin Sabina – La Del Pirata Cojo

Sabina narrates, in his characteristic style, the story of a rebellious and adventurous woman.

Miguel Rios – El Rock De La Carcel

A rock and roll classic that invites fun and movement.

Platero Y Tu – El Roce De Tu Cuerpo

A song that speaks of the passion and intensity of love's desire.

Marea – Corazon De Mimbre

A Spanish rock anthem that addresses deep and sentimental themes.

Reincidentes – Vicio

A punk rock song that critiques society and its excesses.

Fito & Fitipaldis – Whisky Barato

A song that talks about sadness and life's difficulties.

Heroes Del Silencio – Maldito Duende

A Spanish rock classic that explores the duality between joy and sadness and could create an exciting and nostalgic karaoke atmosphere.

Antes De Que Cuente Diez – Fito & Fitipaldis

A melancholic-themed song reflecting on the passage of time.

Rosendo – Masculino Singular

A rock song with acidic lyrics criticizing social hypocrisy.

Mojinos Escozios – Mi Jefe

A humorous song playing with work and personal situations.

Revolver – San Pedro

A song that invites reflection and speaks about finding meaning in life.

Chiquilla – Seguridad Social

A catchy song that speaks about love and admiration for a woman.

Los Ronaldos – Adios Papa

A farewell song addressing personal and emotional themes.

Fito & Fitipaldis – Por La Boca Vive El Pez

An energetic song inviting to live life fearlessly.

Mana – Labios Compartidos

A love song exploring sensuality and passion.

Leiva – Como si fueras a morir mañana

A song inviting to live the present intensely.

Cadillac Solitario – Loquillo & Los Trogloditas

A Spanish rock classic that speaks about loneliness and the desire for adventure.

Seguridad Social – A Tontas Y A Locas

A song addressing carefree and unplanned life.

Pacto Entre Caballeros – Joaquin Sabina

A song playing with metaphors and life experiences.

Pignoise – Todo Me Da Igual

A carefree-themed song speaking about indifference.

Medina Azahara – Necesito Respirar

A rock ballad speaking about the need for a breath in life.

Melendi – Barbie De Extrarradio

A song addressing life and personal experiences.

Revolver – El Dorado

A song inviting to reflection and speaking about the pursuit of happiness.

Heroes Del Silencio – Flor Venenosa

An iconic song by the band Héroes del Silencio, known for their alternative rock style. Poetic lyrics and the distinctive sound of the band make this song an interesting choice for Spanish rock lovers.

Manolo Garcia – Nunca El Tiempo Es Perdido

An emotional ballad by Manolo García combining pop and rock elements.

Leiva – Los Cantantes

A song performed by Leiva that stands out for its rock and energetic sound. Lyrics speak about the lives of musicians and their passion for music, making it an excellent choice for Spanish rock enthusiasts.

Fito & Fitipaldis – Lo Que Sobra De Mi

Another hit by Fito & Fitipaldis, this song has a lively rhythm and nostalgic lyrics. It could be an ideal choice for group singing and engaging the audience.
Enjoy Online Karaoke!
oin the fun and sing on our Online
Karaoke
right now! Unleash your talent, choose your favorite songs, and share the music with friends and family. Don't wait any longer to live unforgettable moments filled with music and joy! 🎤🎶
Find many more rock karaokes
here
.
If you liked this list, don't miss the best list of Spanish Pop Karaoke. Lastly, we haven't forgotten the little ones; here's a list of Spanish Kids Karaoke.
Content not for commercial use.