KARAOKE SONGS
The world's leading karaoke software for playing karaoke songs at home. Download our home version of the number 1 software and enjoy long karaoke sessions having fun with your friends and family without leaving home. Looking for an instrumental? Enter our catalog where we have tracks in mp3, video and our km3 format. Discover the most popular Spanish karaoke songs in the world.
KARAOKE PLAYER
Use your purchased karaoke songs in our totally free karaoke player. Tune your voice with KaraokeMedia Home, enjoy 40 songs with our program to sing at home. Generate your favorite playlists and share them with your friends. Combine it with our Premium account.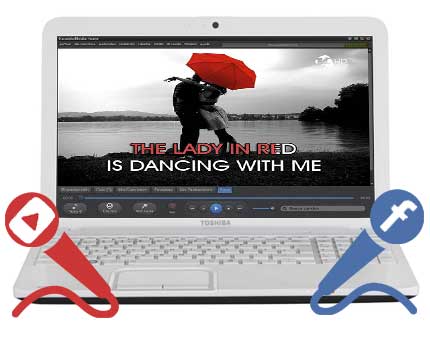 Karaoke Song Bonus
Recharge your wallet with the amount you want, and receive additional credit to buy your favorite songs. We have the most common formats for most songs. Discover the list of songs available on KaraokeMedia, +31000 tracks online.
RECHARGE
AND GET + 2.00€.
TOTAL CREDIT 12€
RECHARGE
AND GET + 5.00€
TOTAL CREDIT 25€
RECHARGE
AND GET + 15.00€
TOTAL CREDIT 65€
RECHARGE
AND GET + 40.00€
TOTAL CREDIT 140€
RECHARGE
AND GET + 100.00€
TOTAL CREDIT 300€
ACCESS OUR ONLINE KARAOKE
A connected online community where you will be up to date with all the latest musical news and much more!
In our online karaoke network you will find news and current affairs on everything that surrounds the music scene, from young talent contests musicals for television to world singing championships.
You can also participate in numerous raffles organized by our company where you can get fantastic prizes such as microphones, complete karaoke for home, the best reviews and unboxing of sound equipment and much more. Do not miss the opportunity to join our young karaoke network, we are waiting for you!