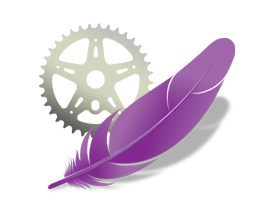 Lighter, more functional
The new improved version of the karaoke program offers improved performance and ease of use, being faster in all its internal processes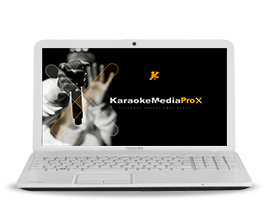 Constantly updated
KaraokeMedia Pro X Professional is constantly updated in the background with all the latest karaoke news on the market that we produce ourselves every day.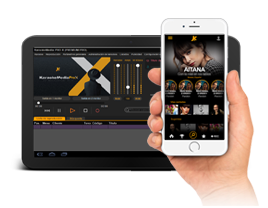 Your catalog in the cloud
Your customers will be able to view the complete list of all your tracks from the comfort of their hand from the Karaokemedia Listings app.
KaraokeMedia Pro X
THE PROFESSIONAL KARAOKE SOFTWARE MOST CHOSEN BY BARS, PUBS AND NIGHTCLUBS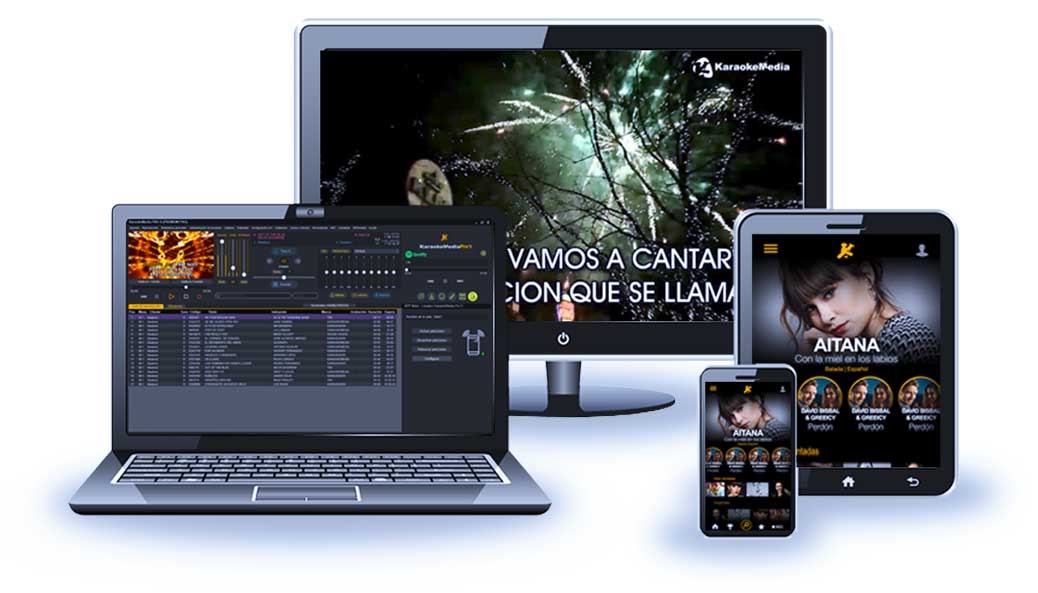 PROFESIONAL KARAOKE
KaraokeMedia Pro X software more than meets the needs of any party venue. It is perfect for hotels, nightclubs, discos, campgrounds, etc…
The program KaraokeMedia Pro X is created with the experience of more than 20 years in the world of karaoke applying all our experience and adding that of more than 3,000 managers and KJs of karaoke rooms around the world who advise us and send us their needs daily.
All professionals who have tried it highlight its functionality that together with its advanced graphical interface will end up convincing any professional manager of any party room.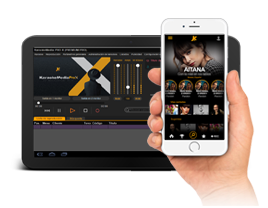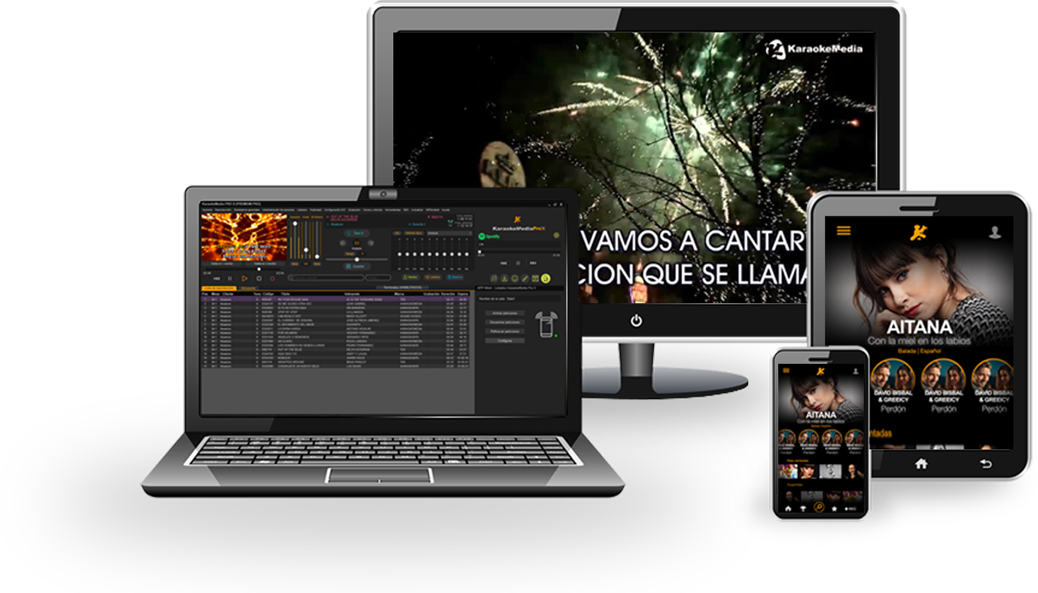 100% FUNCTIONALITY
We have taken very seriously the proper functioning of the new KaraokeMedia Pro X, focusing above all on the operation of the program so that the user experience is completely reliable avoiding unexpected errors that can ruin your event or party.
In addition, our karaoke software includes extra features such as:
Search, download and play any song instantly and without distractions.
Adjust the tone of the song to the client's taste.
Advanced ambient music management.
Automatic notification of next client through playback queues.
ALL THE CONTROL IN YOUR CUSTOMER'S HANDS
Forget about annoying books in your karaoke room, now with Remote KaraokeMedia and KaraokeMedia Listings App your customers will be able to request the song they want to sing directly from their table without leaving their chair.
Discover the new KaraokeMedia App, with it your customer can request their favorite songs directly to the DJ of your karaoke club from their own mobile device, without the need to use the obsolete songbooks.
To start using it, simply scan the QR code and it will connect to the song base of your KaraokeMedia Pro X in just a few seconds.
Among the most outstanding features we can find:
Save favorite songs with their tone
Save your nickname
Keep up to date with the latest news such as contests and karaoke events nationally and worldwide.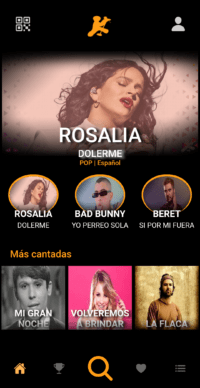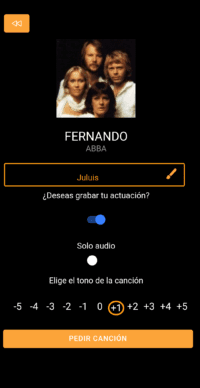 Remote KaraokeMedia Pro
Remote is the perfect complement to our professional karaoke program because it allows your customers to select directly from a touch screen the song they want to sing, this screen can be installed on a wall, column or directly perched on the bar of your local.
One of the most successful features of our terminal is the direct display on screen of the latest news without having to have them in possession, ie, your customers will see the entire list of news complete and can also listen to a 30-second demo if you wish to purchase it instantly.
Once your client chooses the song he/she wants to sing, he/she will only have to add his/her name and it will be sent directly to your computer.
And of course, our terminal is available in 6 languages selectable from the main screen for your potential foreign customers.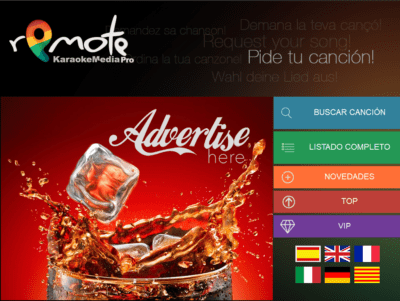 KARAOKEMEDIA PRO X REQUIREMENTS
Minimum requirements
Processor: Intel Core i5 5th generation or higher / i3 10th generation or higher
RAM: 8GB DDR3
Graphics card: Integrated card with TV-out, ATI Radeon 1Gb
Sound card: Integrated sound card
Hard disk: Hard disk SSD 500 Gb + Hard disk storage for songs as needed
Operating system: Windows 10
Recommended requirements
Processor: Intel Core i5 9th generation or higher.
RAM: 16 GB DDR4
Graphics card: Dedicated card with TV output, ATI Radeon 4Gb
Sound card: Integrated sound card
Hard Disk: Hard Disk M2 500 Gb + Hard Disk Storage 2 TB
Operating system: Windows 10/11
PREMIUM PRO ACCOUNT
Forget about paying thousands of euros for karaoke song collections.
With the Premium Pro account you will be able to access our entire karaoke catalog 24 hours a day without time limitation, with all our karaoke songs in exclusive KM3 format with the highest sound quality, the best HD vector graphics and our exclusive TopQuality painting, which includes KaraokeMedia and other associated brands, currently with +30,000 songs available.
All Premium Pro rates per computer
With monthly and yearly modes. Our premium pro account with more than 30,000 songs available in more than 7 languages. Professional technical support by phone, private telegram group and email.
7 DAY LICENSE : Do you need a complete karaoke solution to organize an event or do you want to fully test the Premium Pro account? Get a full license for 7 days for 49,90 euros.
7 Days
€
49,90
7 Days - 1 computer
One-time payment
No monthly fee, for 7 days after contracting
Monthly
Registration +40€
Pay month to month automatically.
Annual
Free registration
TWO MONTHS FREE !