OKEBOX KARAOKE JUKEBOX
KARAOKE MACHINE FOR LEISURE AND ENTERTAINMENT BUSINESSES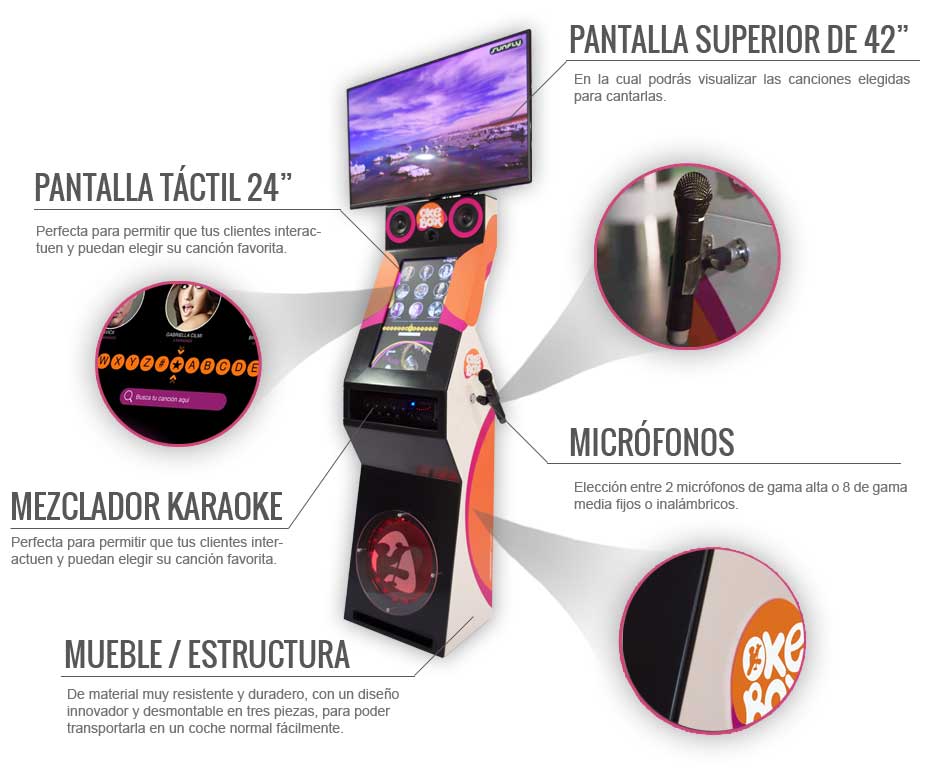 PROFESSIONAL KARAOKE MACHINE
From the latest radio hit, through all the classic and most famous songs of all time.
The OkeBox karaoke machine is in more than 7 languages, among which we can find songs in Spanish, English, Italian, French, German, Russian,
Portuguese, Arabic, Etc….
OkeBox has the complete catalog of KaraokeMedia®, the leading brand in professional karaoke. Enjoy + 30.000 karaoke songs.
AMBIENT MUSIC
Use OkeBox as your music jukebox, activate the ambient music function and differentiate your business from others thanks to the selection of musical styles always to the taste of your customers.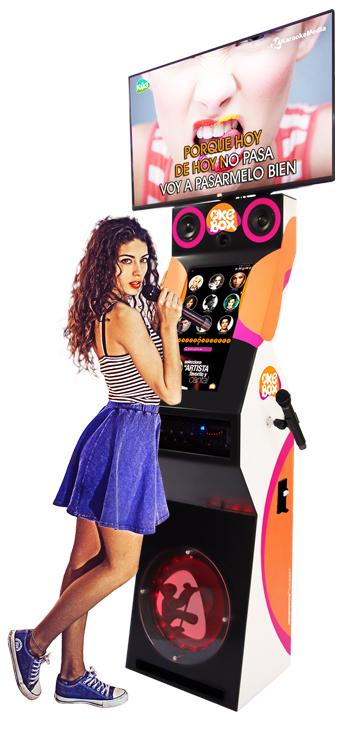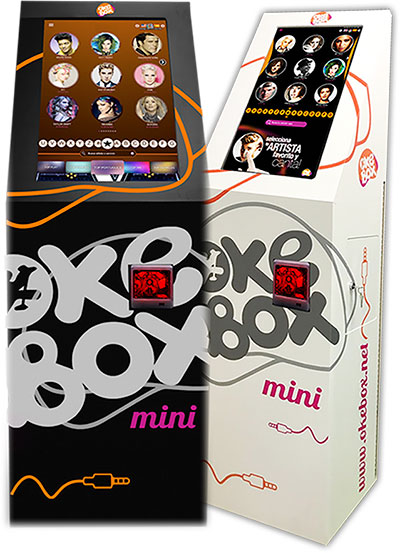 MINI VERSION
OkeBox mini is the scaled-down option of the OkeBox jukebox, designed for venues or companies that already have sound equipment or televisions.
Implement this totem in your venue or private room, or add the karaoke rental option to your events and entertainment company.
24″ touch screen.
MDF lacquered wood furniture.
Integrated AV connections.
Optional:
Bar code scanner
Digital mixer
Microphones
Coin acceptor
OKEBOX OFFERS A WHOLE WORLD OF POSSIBILITIES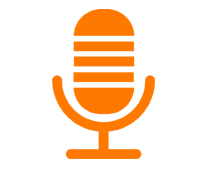 CATALOG WITH MORE THAN 30,000 KARAOKE SONGS
Our Okebox karaoke system comes with a large content of karaoke songs in more than 7 available languages distributed in more than 30 musical genres such as: Rock, Pop, classic songs, etc… In addition to its wide variety of songs, the high quality of the videos is another feature, as they are produced in high definition HD with vector lyrics for higher definition, which makes it easier to follow the lyrics when singing. OkeBox uses the KM3 karaoke format, exclusive format of the KaraokeMedia brand.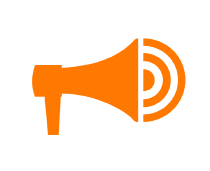 OKEBOX IS ALL BUSINESS FOR YOU
Do you currently have any advertising channels in your business? If so, you already know that this type of channels are not very effective if they are not accompanied by some functionality. OkeBox provides you with an advertising channel through its 2 screens in the full version. Thanks to them you can choose what type of advertising you want to insert, both video and dynamic images, ensuring advertising effectiveness, because your customers will use the machine to sing or play videos while watching the advertisements.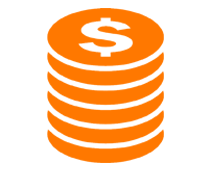 YOU CHOOSE THE BEST WAY TO EARN MONEY WITH OKEBOX
The OkeBox karaoke machine offers you different methods to collect money, on the one hand you can activate your electronic purse, leaving the system only functional by inserting coins, you will be the one who decides how much a song is worth, we also program your machine to accept any currency, in any country.
On the other hand you can also leave OkeBox completely open and free, this is the option most used by our customers, because thanks to this, you will extend the time of stay in your business significantly, thus increasing the income in food, drink or whatever the activity or type of party you play.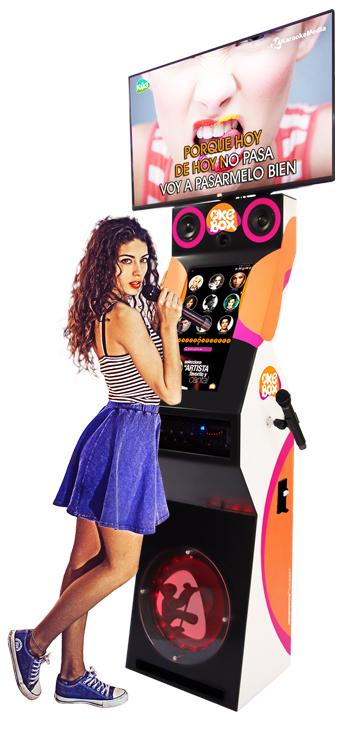 CONNECT IT TO YOUR SOUND SYSTEM
It has an external audio output that will allow you to connect your own audio equipment if you wish.
24″ TOUCHSCREEN BOTTOM SCREEN
Lower touch screen for machine control, access to settings, karaoke and video clips.
Wi-Fi CONNECTIVITY
Connect OkeBox to your wifi network and receive all new songs automatically and transparently every month.
PROFESSIONAL KARAOKE AMPLIFIER
Professional karaoke amplifier equipped with a multitude of effects such as revert, echo, etc… and independent microphone inputs.
43″ FULL HD TOP SCREEN
Top screen for playback of karaoke songs and music video clips.
COIN ACCEPTOR
Optionally, OkeBox can be equipped with an coin acceptor which can be configured as desired.
WIRELESS MICROPHONES
Our karaoke equipment comes with a pair of professional wireless microphones (OKE-520) along with a UHF receiver.
EASILY TRANSPORTABLE
Disassemble OkeBox into 2 parts, top, bottom and TV and pack it in its professional transport rack.
MUSIC CATALOG WITH MORE THAN 30.000 KARAOKES IN MORE THAN 7 LANGUAGES.
Access directly to our demos and check the quality of our productions. Both the video and the audio are edited and mastered with the best musical equipment and the latest software in the market, achieving this way a quality of the product to meet the demands of our customers.