We use own and third party cookies, for the analysis of the user navigation. If you continue browsing, we advice you to accept their use.
OK
|
FURTHER INFORMATION
KaraokeMedia Terminal
Forget about the annoying books on your karaoke room, now with the KaraokeMedia Terminal your customers can request the song they want to sing right from their desk without the need of standing up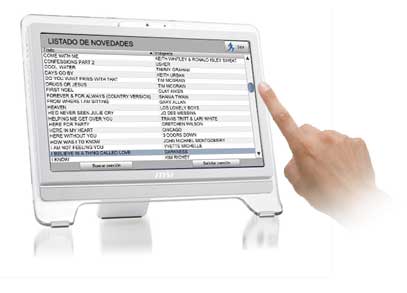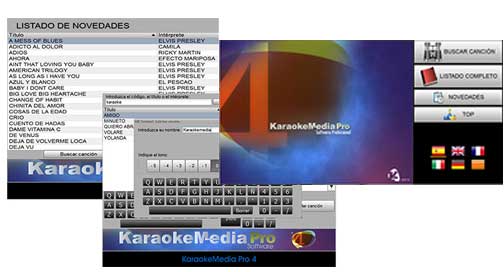 WHAT IS TERMINAL?
Terminal is the perfect complement to our professional karaoke software since it allows our customers to choose directly from a touch screen the song they want to sing. This screen can be installed on a wall, pillar or directly on the bar of your local.

One the most successful features of our Terminal is the direct on-screen display of the latest developments without the need of owning them, that is, your customers will see all the full latest hits list and they also will be able to listen to a demo for 30 seconds if you wish to purchase it instantly.

Once your clients choose the song they want to sing, they only have to add its title to the list and it will be directly added to their computers.

And of course, our terminal is available in 6 languages they can select from the screen, for your potential foreign customers.

INCLUDED AND ADVANCED OPTIONS AND ITS BENEFITS.
A 30-second show for each song IS available for your clients.
Switch on and switch off the terminal directly from your computer.
Set the list of demands so as to be fully automatic or to use a secondary list which you will be able to handle it however you wish.
There is a only-consumer option which main function is to avoid all the people using it and to allow only our clients to use it, ordering a drink through a pre-printed code from our KaraokeMedia Pro.
PRECIO POR LICENCIA 99€ SUSCRIPCIÓN ANUAL IVA INCLUIDO
*REQUIERE TENER CUENTA PREMIUM PRO
PARA CONTRATACIÓN LLAMAR AL +34 967 600 193

We are a company in the audiovisual sector with an experience of more then 20 years in the world of music and karaoke. We produce our own songs and we develop our software exclusively designed for both professionals and individuals. Thank you for your visit, the KaraokeMedia team.

MORE ABOUT US

KARAOKE NEWS
Subscribe to our newsletter to be informed of all our news ...

FOLLOW US