WHAT IS THE NEW KM3?
The new format of karaoke KM3 has come to break barriers in the multimedia field due to its intelligent architecture since its redistributed format , what does this mean? This is a format which gathers from various sources what the user needs at any time separating lyrics, audio and video to put them together again to offer a level of the user experience never seen before in terms of quality, speed and simplicity, it simply does not fail.

Specially designed for professional karaoke as it provides the opportunity to have any song at any time in case you don't have it.
How did we do it?
Thanks to the aforementioned architecture we managed to reduce the size of a song in more than 15 times its normal size from 50 to 100 megabytes in the most popular videos only to 3-5 megs in our KM3 .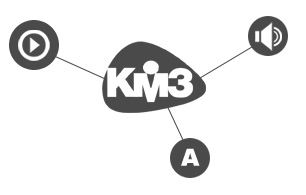 With sound totally real instrumentation, (Our best musicians) mastered and mixed inStudiomedia.