PRIVATE LOUNGE KARAOKE PARTY
A private booth where your customers can enjoy their private karaoke party and record their performances.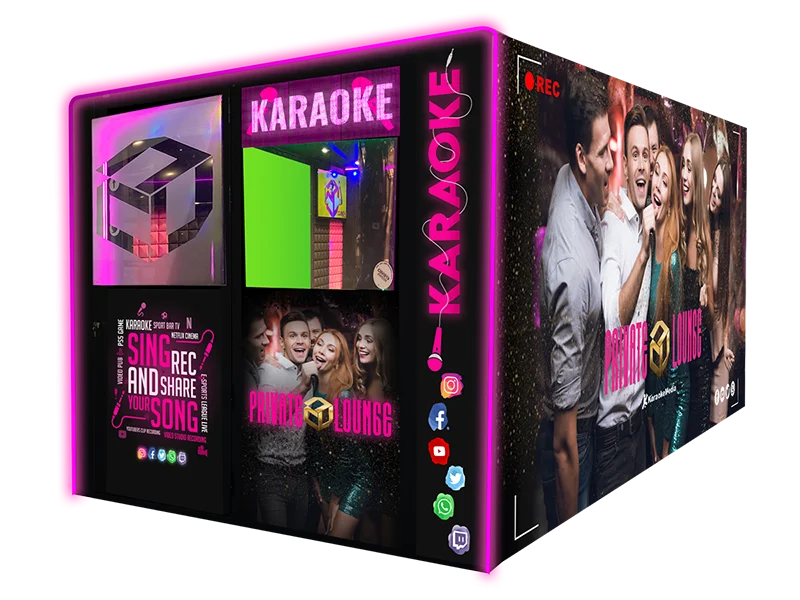 Your facility may offer your guests the possibility of reserving a private stay in advance for their group, and they must pay the established rate for the chosen time slots of use.
Control all your machines from the reception counter or bar with a mini touch pc. At a glance visualize the status of your machines, open/close door, light control, volume control, etc.
New Design 2021 with CE Certificate.
Manufactured 100% in Europe, with the highest requirements and best flame retardant materials, where safety is the most important.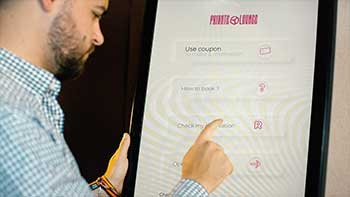 CHOOSE THE TIME
Choose the time and moment you want to use Private Lounge to sing, watch your favorite show or just have fun with your friends.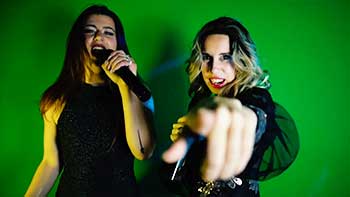 INTEGRATED CHROMA KEY SYSTEM
Thanks to its chroma system you will be able to record yourself singing your favorite songs and then generate a professional video clip where you and your friends will be the protagonists.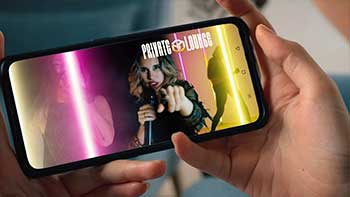 CREATE YOUR OWN MUSIC VIDEO
Thanks to its integrated chroma system you can make your own music video clip and take it with you or give it as a gift to whomever you want. A nice and original souvenir.
THE FUTURE OF ENTERTAINMENT
Your customers will be able to:
Enjoy their private karaoke party.
Record their performances with a chroma key background.
Get their own performance videos and receive them in their email.
Share them on their social networks if they wish.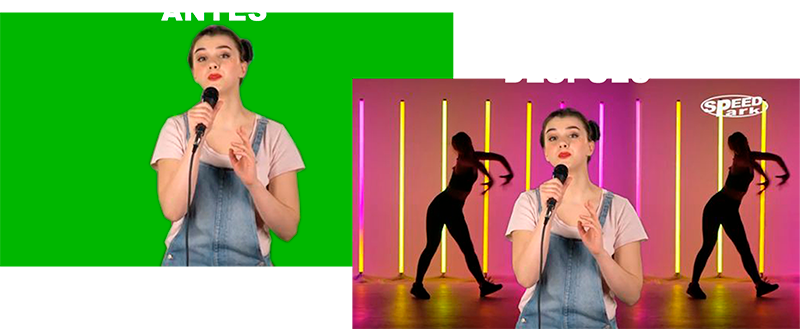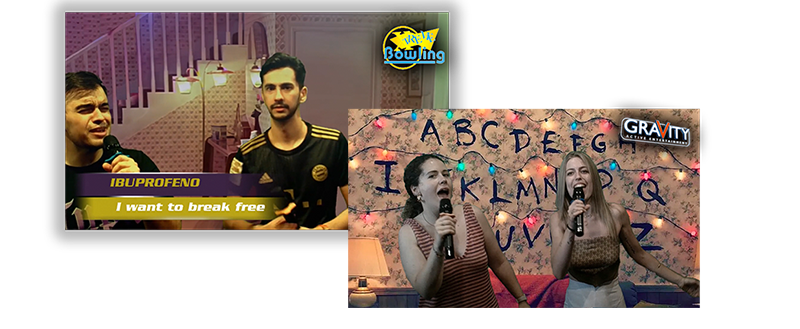 CUSTOMIZED BACKGROUND VIDEOS
Brand impact: Visualizations of your business logo when customers share your performance on their favorite social networks.
Differentiation: It will allow you to generate a unique and exclusive position in the market with your competitors.
What does the Karaoke Private Lounge Party include?
Karaokemedia software with chroma recording with customized background videos.
Karaoke machine with computer and touch screen 23,6″.
Sound System LD 500w.
Karaoke Pro Okebox Karaoke Mixer Amplifier.
4 Okebox wireless microphones.
Televisions 43″ + supports.
Full HD recording camera.
Camera for 360º security system.
Covid Led UV-C cleaning system.
Metallic structure according to size.
Climalit glass anti outside sound.
Sofas, tables and carpet.
Complete electrical and lighting installation.
Leds and decorative vinyls with your logo sectored.
Lighting control and automatic door opening.
Video Auto Installation.
Packing and preparation for shipment.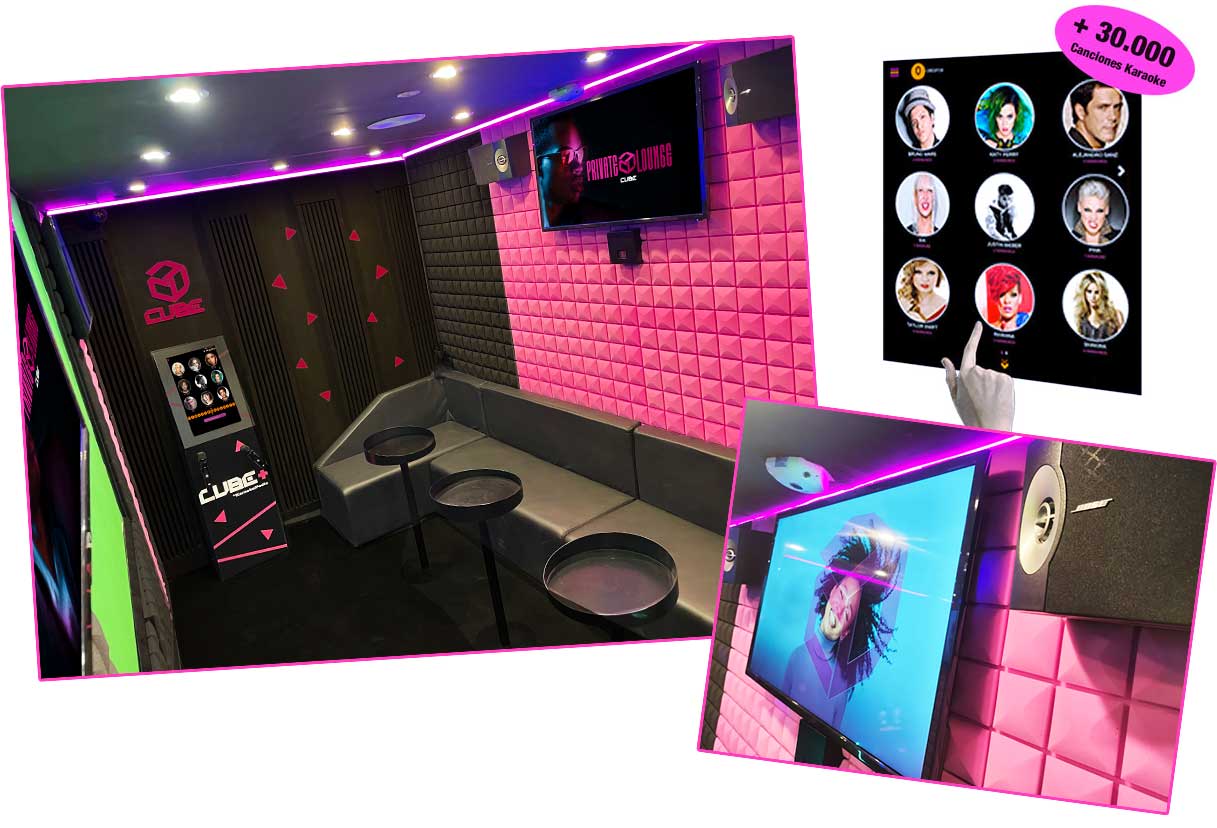 CHOOSE THE SIZE AND CUSTOMIZE
CHOOSE THE SIZE ( OUTSIDE DIMENSIONS):
MODEL M
Lenght: 214 cm
Width: 250 cm
Height: 242 cm
CAPACITY 3-4 PEOPLE
MODEL L
Lenght: 314 cm
Width: 250 cm
Height: 242 cm
CAPACITY 6-8 PEOPLE
MODEL XL
Lenght: 414 cm
Width: 250 cm
Height: 242 cm
CAPACITY 8-12 PEOPLE
MODEL XLL
Lenght: 514 cm
Width: 250 cm
Height: 242 cm
CAPACITY 10-14 PEOPLE